---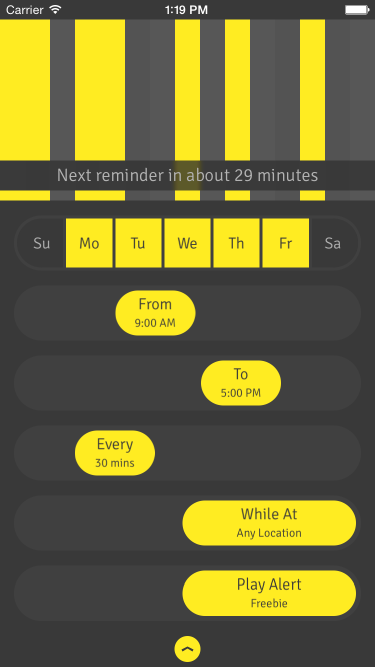 Stand Up! is our fun, flexible work break timer. By now you know that sitting down is slowly killing you, and we want to help you live longer. It's as simple as standing up! It's also great for RSI sufferers, or anyone that needs to take regular breaks. Stand Up! was featured by Apple in the Health & Fitness category, and is rated five stars by users. Features include:
Free and fully functional! It comes with one alert tone, and one In-App Purchase unlocks the rest.
Completely customizable to your work schedule. Set it and forget it.
Set your reminder interval to any five-minute increment between five minutes and two hours.
The header shows you at a glance how you're doing, and how long to your next alert.
Limit alerts to your office location so it doesn't bug you when you go out to lunch.
Many custom alert tones, some quite insistent.
Alternate color schemes in case you really hate that yellow.
We don't micromanage you, and we don't make you feel guilty. There's no compulsive tracking and time management, and we don't tell you what exercises you need to do. Just regular, simple reminders to get up, with easy confirmations so you can get a sense of how you're doing.

---
User Reviews
Excellent app ★★★★★
Great whether working at desk all day, or, like me, recovering from injury that keeps me on my tush most of time! Cute, sweet motivation to just get up what days/what time and intervals/how often u set it for!! Beats other similar apps hands down!
I love it ★★★★★
Great App. Even when I'm feeling lazy and I don't want to stand I do. I also use it as a reminder to drink water every time I stand up.
Great UI and a very useful app! ★★★★★
Love this app. Reminds me to stand up! Location based! Works perfectly with my Varidesk as a reminder to stand up and switch positions throughout the day. Love the UI… unique without sucking! Love it!
... plus many more!
---
More Screens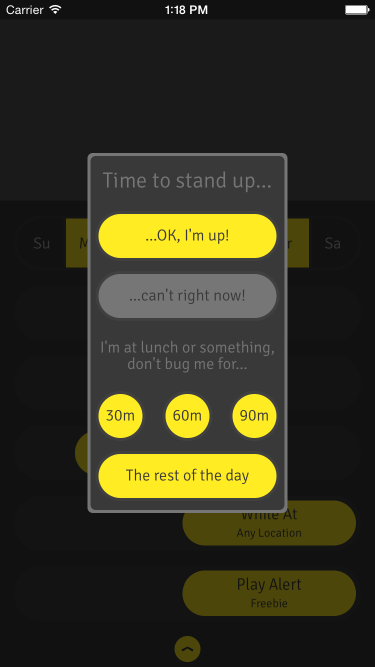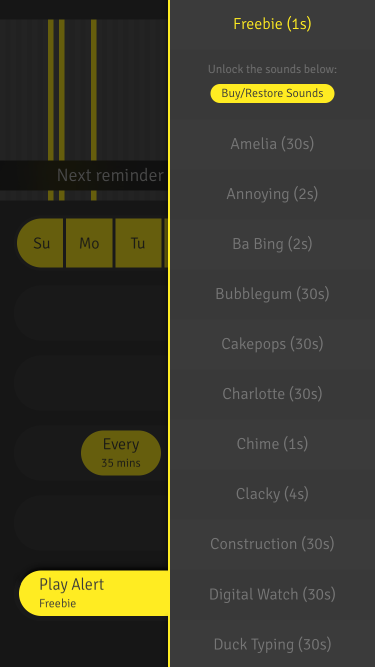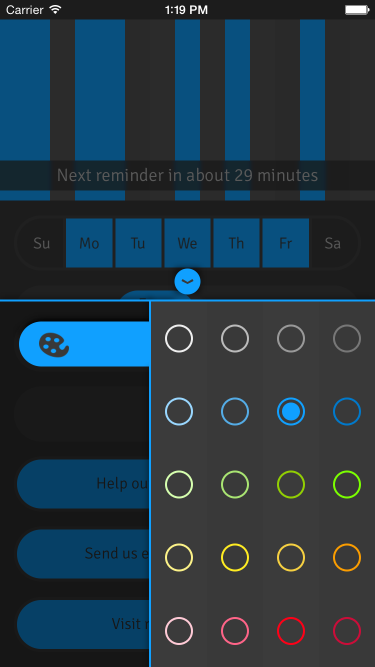 ---
Support, Press, & Privacy
Please email us at standup@raisedsquare.com for all your Stand Up! related inquiries and feedback. Additionally:
A variety of materials including screenshots, icons, and a reviewers guide are available on our press page.
Here is the Stand Up! privacy page.
---
Gratitude
We used several tools in the making of Stand Up!
Thanks very much to our beta testers, Andrew J. Clark and Whitaker Trebella! They make great stuff, definitely check out their work.

---